A Seed of Inspiration
Every business starts with a seed of inspiration. The seed that inspired Esox Custom Tiling was planted early when the owner, Rhothmen Erickson, was a young boy in his grandfather's workshop. At the time, his grandfather worked with leather and wood to create custom crafts that he later gave as gifts or sold. By the end of every week, the workshop was littered with wood shavings and bits of leather pieces. Every Friday afternoon after school, his grandfather paid Rhothmen $5 to clean up the mess from the week's work. "That's where I gained a love for working with my hands and making things," Rhothmen said.
More Than a Job
As an adult, that experience allowed him to make a living working with his hands. He started out as a laborer for various local builders. Unfortunately, he began feeling frustrated that he wasn't able to complete jobs to the standards he felt were best. "There was a lot of cutting corners and trying to get work done the fastest way – not the proper way."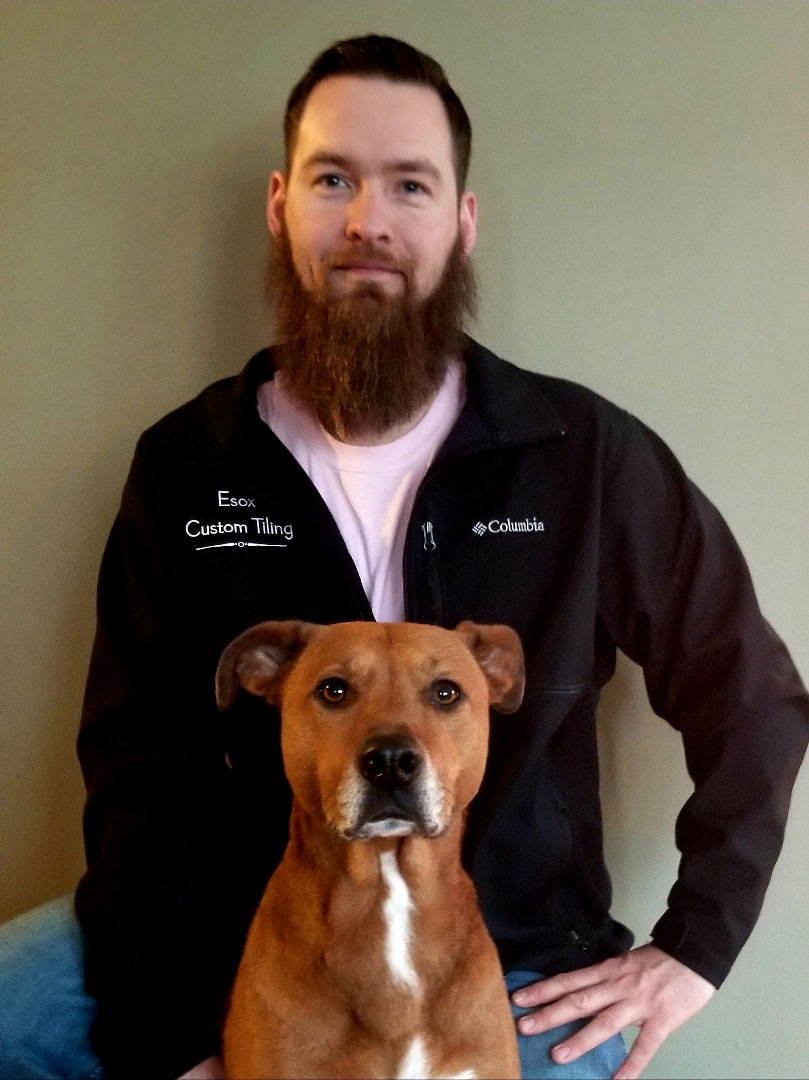 Wisconsin Born
Born and raised in Madison, Rhothmen decided that he wanted to provide the type of quality work he was thinking of to his fellow Wisconsin natives. That's when he decided to go out on his own. From that decision, he developed a love for "being stuck in the shower" as he says. "I started getting really good at tiling, and I had found my niche." Not long after that, Esox Custom Tiling was born.
Hiring the Right People
Almost a decade later, Rhothmen takes care to protect his initial vision. "I hire tradespeople that not only have the skills that I'm after but also demonstrate an attention to detail." Communication is another qualification that is a must to work for the Esox Custom Tiling team. "Communication between the team, me, and the customer is essential. I need to know that when they leave, the job is finished in the way I would leave it."
Partnering with the Best
Because of that dedication to exceptionalism, Esox only forms partnerships with companies that offer top-of-the-line materials and services. "It goes back to the beginning," Rhothmen says. "I didn't cut corners back then, and I'm not going to now." Developing solid relationships with like-minded businesses extends our services and our team. These collaborations provide the internal Esox team with the knowledge, equipment, and material they need to deliver the results they're known for.
Challenge Accepted
Have a design that you've fallen in love with or a vision that you're determined to see through? Rhothmen and his team don't shy away from a creative challenge. Each team member feels pride and ownership in the work they do down to the smallest details. And though the future is focused on growth, it is, more importantly, about those details. "We definitely want to be able to service more people," Rhothmen says. "But our main goal is for the quality to always be outstanding in every job we complete."